During the past month, we have spent our evenings slowly reading through a fantastic book called Tunnel of Gold by Susan Marlow and Kregel Publications.

The story is about Jem and his family in the fictional town, Goldtown, near Cripple Creek, Colorado in 1864. Just 15 years after gold is discovered at Sutter's Mill in California, the gold is already starting to thin out and is much harder to come by, although panning for gold is still possible.  This is the second book in the historical fiction series.  The first book tells the story of how Jem's father becomes the Sheriff of Goldtown.
Tunnel of Gold tells the story of how Jem tries to save the mine while navigating his loyalties to his family and friends, including Chinese Immigrants, and how to treat his enemies. There are so many good themes that run through this book!  We saw honor, courage, loyalty, friendship, obedience, justice, and more, all without being preachy or patronizing.  The themes are skillfully woven throughout the story layers. My 8 year-old son has just loved this book and we can't wait to read the rest in the series.  When I asked him what he liked about the book, he gave me four things: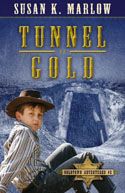 The book is exciting and interesting.

It is about boys close to my age.
It is funny.
I am learning lots of new words.
Learning new words, also known as vocabulary. I never really like vocabulary as a kid, but these books come with a downloadable enrichment packet that includes activities, games, and vocabulary words. The worksheets are a 23 page .pdf that has a variety of pages, that would be useful for multiple learning styles. There are timelines, Venn diagrams, recipes, crossword puzzles, additional web resources, and even a small construction project.  We did everything in the enrichment packet, not because we had to, but because they were fun and the kids wanted to.
This book is recommended for ages 9-12, which is perfect for reading alone.  We chose to do this as a read aloud for my 8 year-old and he really enjoyed it and the story was not too complex.  When we did the enrichment activities, we did them together. Most of the activities could be done independently for an older child. The books are available in paperback directly from Goldtown Adventures for $7.99 or from variety of online booksellers.
You can read more reviews at the Schoolhouse Review Crew blog.