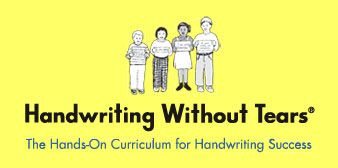 The iPad is a very popular tool in our house, so when we come across a great educational app, we are thrilled. It is a win-win situation when the app is both fun and educational. The Wet-Dry-Try App is a supplement to the regular Handwriting Without Tears (HWT) program that is developmentally based and is known for reducing letter reversals.
This app was a favorite of my four-year old although all the kids liked it.  There are two modes of use.  The first level is easy. On this setting, it is more forgiving on straightness and exactness of the lines the child draws with his finger.  The other setting is called "Challenging." You can set up multiple users, so my seven-year old used the app in Challenging mode and my four-year old used it on Easy. Both boys loved it.  For the first few weeks, I could count on hearing "Mom, I need to practice my letters!"  We used the app for iPad, although it is also compatible with Android devices with a 7 inch or greater screen. 
The app provides gentle instruction with lots of positive reinforcement when things are done well or correct.  My four-year old loved the verbal, positive reinforcement.  It was not uncommon to hear "Woo hoo, I am so smart!" from the child using the app.  I think my favorite comment was, "Hey Mom, Did you hear that? She said I am awesome." This app was the most appealing and helpful to my preschooler who is still learning letter sounds and how to write each letter. My seven-year also really enjoyed the app even though, he already has great handwriting.
As the child correctly traces the letters in the Pick and Practice option, first
 with help, and then on their own, he is earning st
ars.  After three stars, he earns a letter card.  The child
 has correctly written each letter nine times when he gets his letter card.
HWT also has what they call the Winning Order. Here, the capital letters are divided into three categories: Frog Jump Capitals, Starting Corner Capitals, and Center Starting Capitals. It is an opportunity for more practice where the child can again earn more letter cards. At the bottom of the screen for Winning Order, there is an option to switch to numbers.
This app is available in the app store for iPad and on Google Play for $4.99.

Disclaimer: I received a free copy of this product through the Schoolhouse Review Crew in exchange for my honest review. I was not required to write a positive review nor was I compensated in any other way. All opinions I have expressed are my own or those of my family. I am disclosing this in accordance with the FTC Regulations.